The Ancient Order of the Templar Knights
|
home




Membership List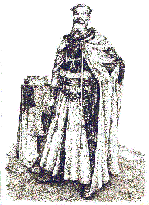 Within the Templar Council rests the:
Templar Grand Master
all Masters
and any appointees.
Into the Chivalry, or the Knighthood, goes all Knights- the heavy cavalry and best of the best.
Champion
Holy Knight
Templar Knight
Banneret Knight
Knight
Before the Knighthood, the Templars are made up of those who give services, or train to enter the Chivalry.
The Serjeantry is comprised of all:
Serjeants
Men-at-Arms
Squires
Pages
As well as all Initiates.
Note: All Retired Templars will be named in their appropriate category, but marked as **RETIRED**.